Access to Kumamoto city center from Kumamoto airport
Airport Bus (No reservation necessary)
For detail, access KyushuSanko website.
Wakuwaku 1 Day Pass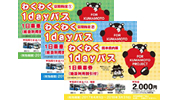 This is a great ticket that allows you to ride any route buses, railway trains, and city trains in Kumamoto city for a whole day.
Furthermore, it has discount ticket for cooperating facilities in Kumamoto city such as Kumamoto castle.
Discount for the facility is only available on the day the ticket is valid.
For detail, access KyushuSanko website.
SUNQ Pass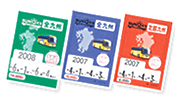 SUNQ Pass is free pass ticket for highway buses, almost all route bus, and some boats in Kyushu Island and Shimonoseki city in Yamaguchi prefecture.
You can use this ticket for about 2400 route buses so this ticket will let you go all over Kyushu.
For detail, access SUNQ Pass website.