You can download the sightseeing guide map in Kumamoto city (PDF). Please utilize it for touring around Kumamoto city and along Kumamoto Dentesu line.
Kumamon Train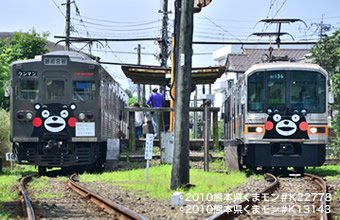 Kumamoto Denkitetsudo has 3 railways centering on Kita-Kumamoto station. Since 2015, 6000 typetrain that was active on Subway Mita Line before is running here.
6211 formation (6221ef formation) is wrapped in Kumamon, a character of Kumamoto prefecture. The inside has seats with design of horse, hot pepper, and lotus roots, which Kumamoto is known for and double ring and bellflower, which are family crests of Kato family,
This train also used "efWING®", the next generation train, developed by Kawasaki Heavy Industry for the first time in the world.
We hope many people will enjoy "Kumamon Train".
Operation Route
You can travel from central Kumamoto city to Fujisakigumae station on foot while sightseeing.
If there is an inspection or trouble, it will be operated by another train.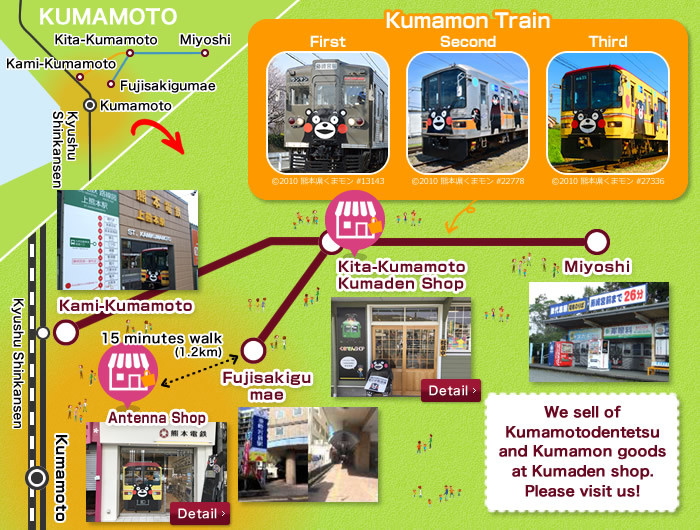 Video gallery
01 form (Kumamon train Second)
01 form (Kumamon train Third)
photo gallery
6000 form (Kumamon train First)
01 form (Kumamon train Second)
01 form (Kumamon train Third)
Kumamoto Denki Tetsudo was founded as Kikuchi Kido Co., Ltd. in 1909 and is developing railway connecting Kumamoto city and Koshi city from Kamikumamoto, Fujisakigumae, to Miyoshi, route buses, and chartered buses. We are known as "Kumamoto Dentetsu" and local people call the train Kikuchi Densha (Kikuden) and buses Dentetsu Bus.
6000 form (Kumamon train First)

A big face of Kumamon" is wrapped outside of front and back of the train as the wrapping train 6,000-type Kumamon. The impact gets stronger as it comes to the station. The design of different expressions of Kumamon is provided at the position of all doors. The same design is adopted inside the door of left and right in the train, and there are four different kinds of postures of Kumamon as "Lying Kumamon" and "footprints of Kumamon," and so on. Kumamon is looking from the outside at the window, and guidance of each station being done on a ceiling, and expression of Kumamon is greatly arranged.

01 form (Kumamon train Second)

This train was wrapped in design of Kumamon with a desire to make earthquake victims and many tourists lively after the occurrence of the Kumamoto earthquake. "A big face of Kumamon" is wrapped on a train at the front and back, and many faces of Kumamon are expressed at the door and in the whole body such as "Surprised face," "heart-shaped eyes," and "taking a nap." The train has the charm of the atmosphere we smile naturally. You can enjoy travelling on the train while you are surrounded by Kumamon in the train as there are "collaboration with Kumamoto Castle," and "collaboration with Decopon (Tangerine) Kumamoto special product."

01 form (Kumamon train Third)

This design was created one year after the Series No.2, and is also much loved by people just like its predecessors.
The main feature of No.3 is that the big Kumamon on the front and back have different designs, one is smiling and the other is excited. The back colour of the train is a cheerful yellow. We are very happy that people love the design even more than before. Now, the train itself is a tourist attraction and is looking forward to welcoming visitors.

6000 form

It is our main force train that runs between Fujisakigumae to Miyoshi.
The train used in Tokyo Subway Mita line was implemented in 1995. We received f10 sets of five carts by 2001 and they have been altered to our style.
6101 form has red belt and 6200 form has different width for the warning color and how the belt is wrapped around. You can't miss the little color difference for each train.

5000 form (Aogaeru)

We received 5000 form used in Tokyu Dentetsu Mekama line in 1985. Currently.
The front is the Shonan style with 2 windows, adorable feature with wide bottom. They are known as the nickname of "Green Frog" because of the single green color.
Experience the retro quality with 5000 form that still has the old appearance
* 5000 form is a train which is not currently operated. It is planned to be used at events etc.

200 form

22000 form train was born in Osaka and known as the nickname of Zoom Car in Nankai Dentetsu. 1 set of 2 carts were received and altered to our style. Recently, it is often parked in the depot but since 5000 form has no air conditioning, it substitutes 5000 form and runs between Kitakumamoto and Kamikumamoto.

71 form

It was manufactured in 1928. It ran in Kohin Tetsudo and Kokutetsu, and we received it in 1954.
It was restored internally and externally in 2009.
* 71 form is a train which is not currently operated. It is planned to be used at events etc.